Before you ask, No I am not pregnant! My sister-in-law and cousin-in-law are both pregnant though and due next month (I think) so I thought it would be cute to make them some baby shoes – and other baby things?
Here are my first attempts at teeny tiny shoes. First up are the Cross Over style. I like these and they were fairly easy to make. I do think they will fall off easily though.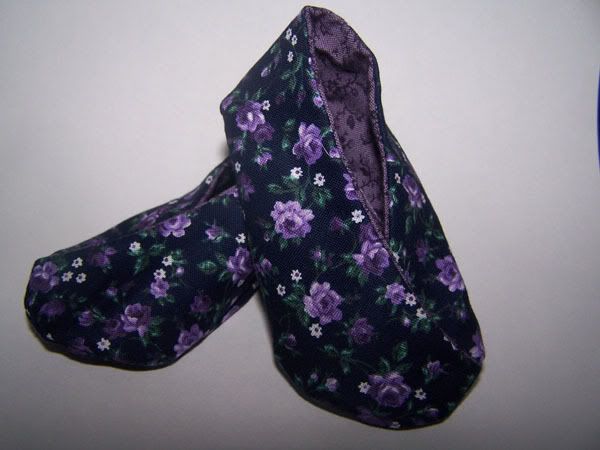 The second pair I made were the Mary Jane style. I think the strap will help these stay on. They are super cute, but involve hand sewing (I detest hand sewing). I didn't attach the straps yet. I was going to try to do a button closure, but the straps are so very tiny that I think I'd have a problem fitting a button hole on them. I'll probably do some velcro, but I don't have any right now. These are also the only ones that have a hidden seam on the sole – hence why hand sewing is required.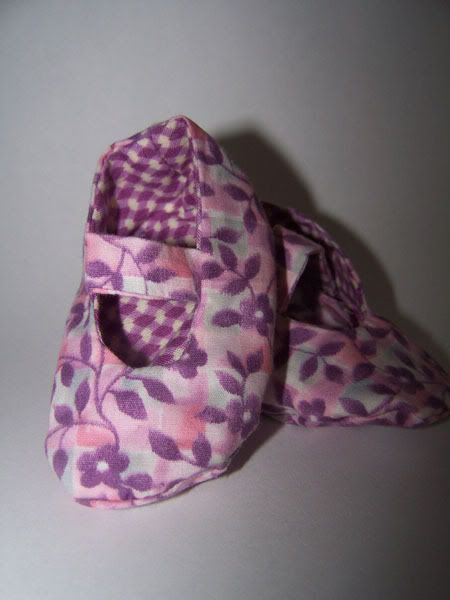 The third pair is a clog style. Hubby and I both liked this version best. I think they will stay on fairly well and they were pretty easy to make – with no hand-sewing involved! I did make a mistake ans sewed the fake leather soles on upside down. They are pleather on one side and fuzzy on the other side. The fuzzy was supposed to go next to baby's foot and the leather on the outside, but they're still cute.

I got the mary jane and crossover styles from greenjelly.etsy.com. She calls the crossover style Japanese Style.
The clog style pattern was free and I found it here.
The best part about these shoes (other than their super cuteness) is the cost to make them. Each pattern calls for 1 fat quarter of fabric, but I can make 2-3 pairs from a fat quarter. That brings the cost of each pair to $1.50 (not including the pleather that I bought as a remnant)! Can't beat that price, especially since babies outgrow everything so fast!