CRAFTS
Sleeveless Purple Dress
Pattern: Suddenly You're Sewing Dresses 103
View: A (with sleeve facings)
Alterations: Changed 2″ hem to 1″ hem
I cut all the pieces out Friday night and spent most of Saturday sewing this before a friend's BBQ. I started at about 11am and finished at 5-ish. I was literally walking around the house, clipping stray threads, trying to get the kids ready to go. (*clip* "Where are your shoes?") We weren't too late to the BBQ, and she looked adorable (if I do say so myself). She did get something on it, and it smells like bonfire.
–Showing me her Care Bear.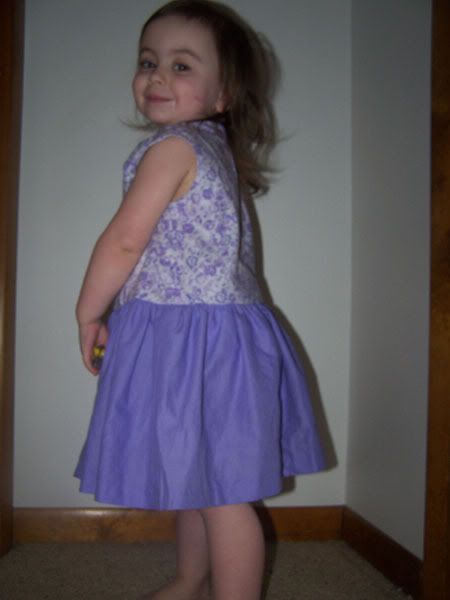 –The closest I can get to a back shot since she doesn't like to turn her back to the camera. Sorry for the lack of focus. By the time I realized I had my camera on the wrong setting, she had run off.
I did notice it was much easier to make this dress than last time – and didn't take me nearly as long! I wish I had re-read the pattern for the pocket instructions before making all those purses. They would have looked so much better. Ah well, live and learn.