I found a great tutorial for a reversible tote bag (it's not as big as it sounds, it's about 9×9″). Tutorial can be found here: Bias Tape Tote.
This is the one I made for myself:


You can't see it, but the lining is blue to match the butterflies. I also added 4 pockets – a purse is not complete without pockets!
I decided I needed more accessories to match my wonderful butterfly purse. I happened across a tutorial for Key Fobs. Here's another one for Ribon Key Fobs that I used, but I packed up my craft supplies in anticipation of the big move, so I will have to post pictures of them later.
Here's the one I made to match my tote: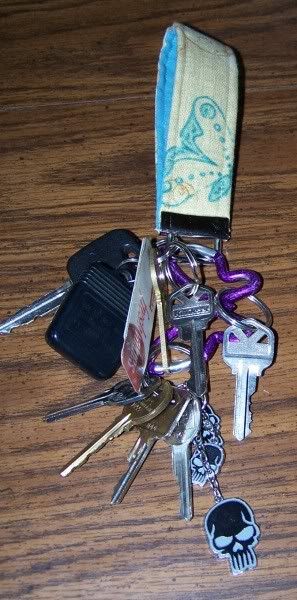 if you look closely, you'll notice my purple carabiner in the shape of a butterfly. Also note the skull key chains. The backside/inside is the same blue as the lining of the tote.
Still feeling like I needed more accessories, I found a tutorial for a tissue cozy (travel tissue holder). Tutorial can be found here.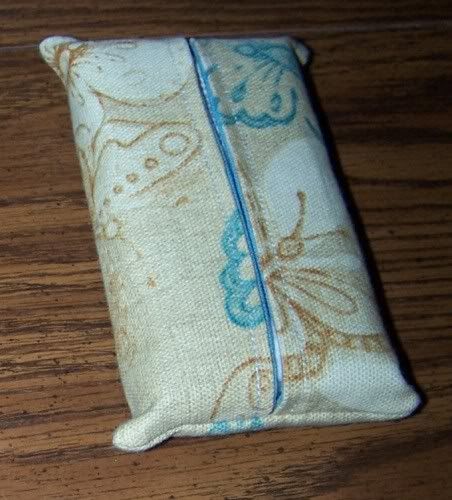 I altered the pattern. I lined mine (yes, in that same blue) and didn't add the ribbon accents.
I also made myself a matching wallet! I started with Babyangel's tutorial and modified it to have a paper money space and a zippered coin pouch on the back. I think I also added a few extra card slots on the inside.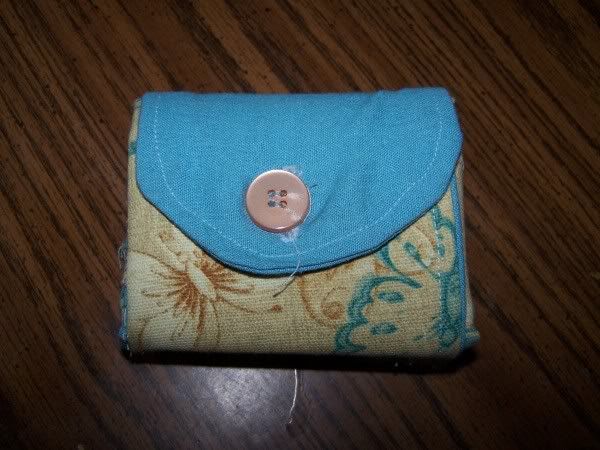 After making all these accessories, I found that my new super-cute butterfly purse was too small to hold all my belongings! After I stopped crying, I decided to make myself a new purse. I had happened to pick up a pattern for a messenger bag (I think they actually call it a fisherman bag) for 99¢ at Hancock Fabrics. The pattern is Butterick 4147 view F. I made no alterations to the pattern, though I was tempted to add many more pockets (ha ha!).
Front of bag, with flap closed: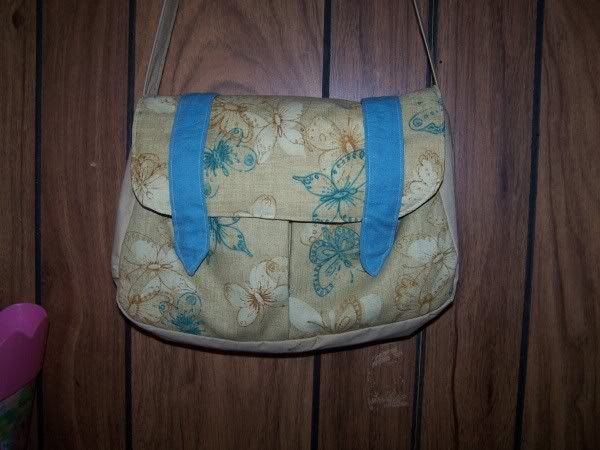 Notice the same blue fabric used as an accent! This was the best remnant ever!
Outside of bag with flap opened:


the pockets are lined with more of the blue fabric. This was my first time using magnetic snaps (or any snaps for that matter) and I found them to be easy to install but super strong! They are difficult to open. The pockets look floppy, but they do their job well.
When you open the bag? YARR!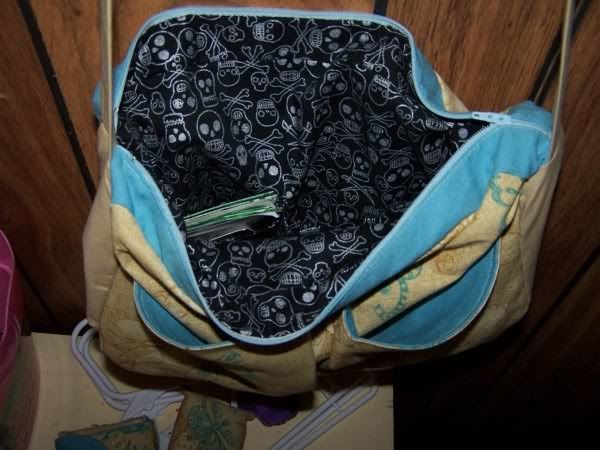 I love the lining. It's hard to see, but there are 2 inside pockets. I also love that this bag zips closed; something that was lacking on the tote bag.
I tried to take pictues of the entire bag including the strap, but my camera refused to focus on it. It hangs to about my hip. So far I am in love with this bag. Everything fits with room to spare … perhaps for a book? It's not big enough to fit my brand spanking new laptop (bag measures about 9×13″), so that may have to be my next project.