CRAFTS
Pepto-bismol scoodie (my first)
Following Vegbee's amazing tutorial, I made my daughter a Scoodie! I found the fleece in the discount remnant bin and knew what it was destined to be. The outer shell is made from a bed sheet.
I traced the hood of her current winter coat (just like the tutorial says). I used a regular scarf for the pattern, but it turned out to be much too wide (10″x60″). I of course didn't fully realize this until I had already attached the scarf to the hood, so had to go back and cut the scarf in half. Much better! And now there is a pepto-bismol colored scarf just in case you're REALLY cold!
And one that kind of shows how long the scarf part is. [no more pictures, mom!]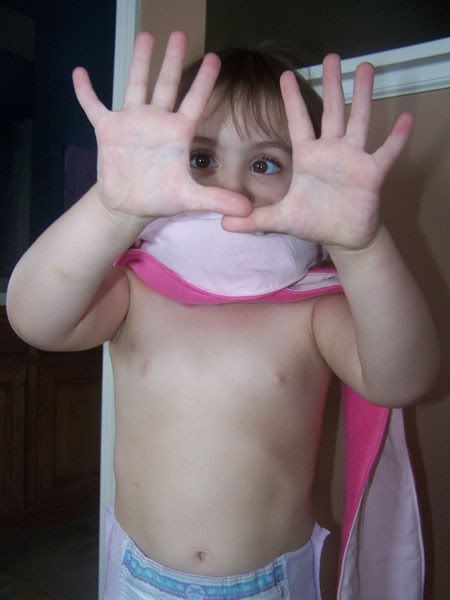 Here you can see the whole thing.

Next time I think I will take a little length off the hood so the scarf can cover the nose and mouth easier (It gets darn cold here in Chicago). The little one loves it though and now I really want one for myself!
This worked up much easier than I had thought it would, so I can see myself making many of these as gifts. Maybe if I start now I can have a bunch done before next Christmas!
P.S. I'm sorry for the nakedness, my daughter refuses to wear clothing indoors.