(Yes, Julie, that title is for you!)
I was looking at the craft swaps on Craftster (I have a small addiction) and was inspired by a love themed one. Here's what I made.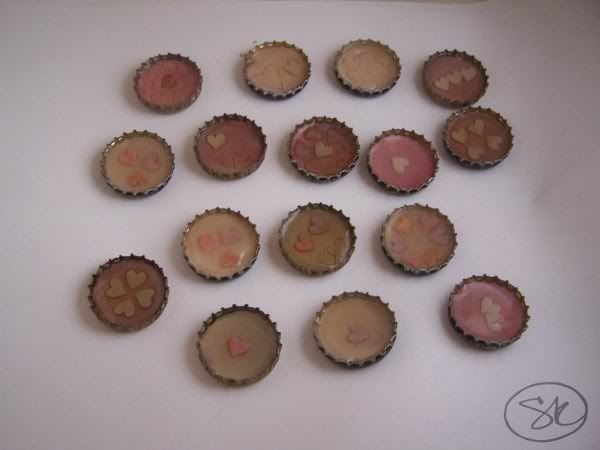 I used bottle caps (mostly from Mike's Hard Lemonade and Leinenkugel's Honey Weiss), Polymer clay (white sculpy original and liquid clay), pearl-ex powders, and a cutter made from the metal top of a pencil that holds the eraser (the ferrule). Oh, and magnets – they weren't attached when I took the pictures.
For some reason I felt the need to bake the base layer to cure it then add the TLS and bake it again. That was not a good idea. The super thin layer of clay at the bottom burnt and the top layer of TLS never got perfectly clear. Also, the TLS is not self-leveling so you can see the pour lines which I do not like.
Next time I will make the bottom layer, cure it then top it all off with resin to make it shiny and glass like. In fact, depending on what hubby is up to, I might do that tonight.
My daughter had a blast playing clay with Mommy – helping cut out little hearts and rolling clay through the pasta machine.
——–UPDATE!!——–

Here is my second attempt at these bottle cap magnets.
These use more contrasty colors (I had been told the first set was too washed-out-looking. I also topped these with resin instead of liquid polymer. I love how these look – so much better than the first batch.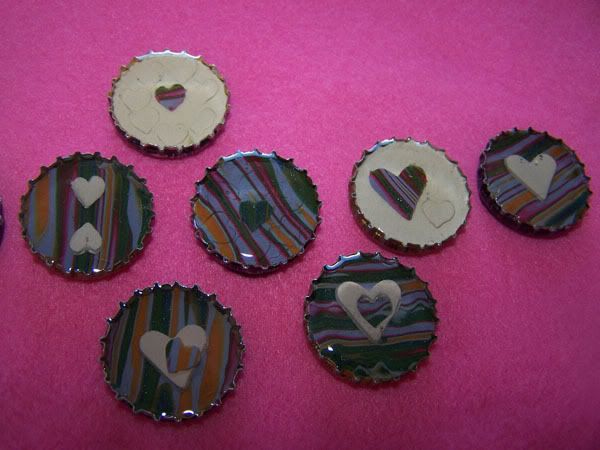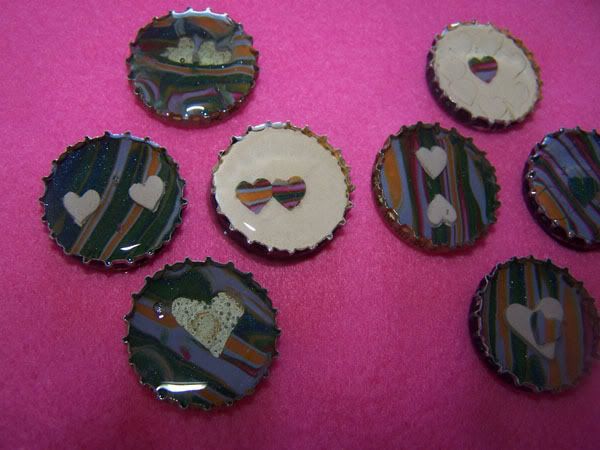 And here's a pic showing how shiny they are. Taken about halfway through the curing of the resin.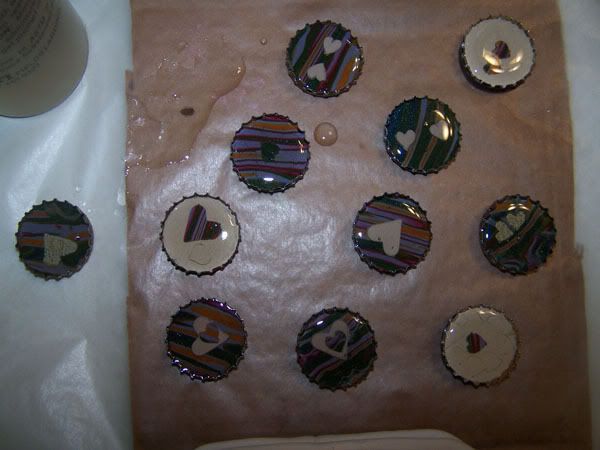 Some of these have small air bubbles trapped in them. I didn't babysit them as well as I should have. I don't really mind them though.