First, I have to preface this entry with some trivial babble. Growing up I always thought the difference between a coat and a jacket was their thickness. Windbreakers, light weight cover-ups, etc were all jackets regardless of length. Same goes for anything worn in cold weather, they were all coats. I learned fairly recently that jackets are only jackets if they are waist/hip length or shorter, regardless of their thickness/heaviness. Coats are anything longer than hip length. It still seems strange to call a light/medium weight covering a coat, but that is what this is. It is a Fairweather Coat from Vegbee (though she calls it a jacket, too).
I don't know how long this took me. i worked on it off and on for 3 or 4 days, but only short stints at a time. The shell fabric was from my hubby's grandma (thanks, Nancy). She had given it to me to make purses or other things out of, but it became a jacket instead. The lining is a pink bed sheet my mother-in-law gave me (thanks, Karen) that had also been used to make my daughter's princess Halloween costume (see archives. The buttons are covered in the same fabric as the lining. Enough of my blahblahblah, on to the pics! Please excuse the goofy poses and facial expressions.
Front open (pre-buttons, really)

Front closed & With buttons!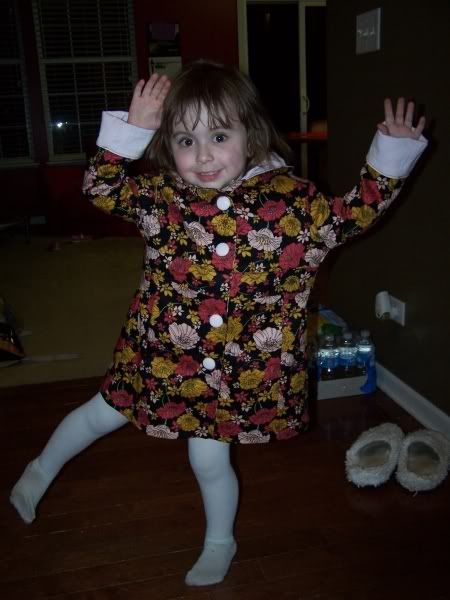 And a flamingo…

Bck of coat unbuttoned (pre-buttons, actually)

And buttoned (on a flamingo again)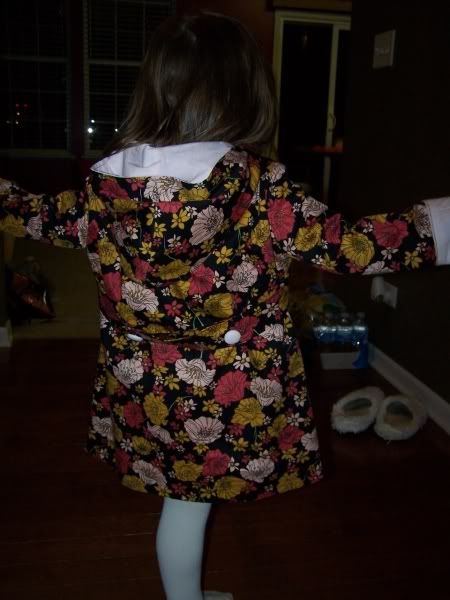 You can kind of see the pockets… (look, mom… one leg!)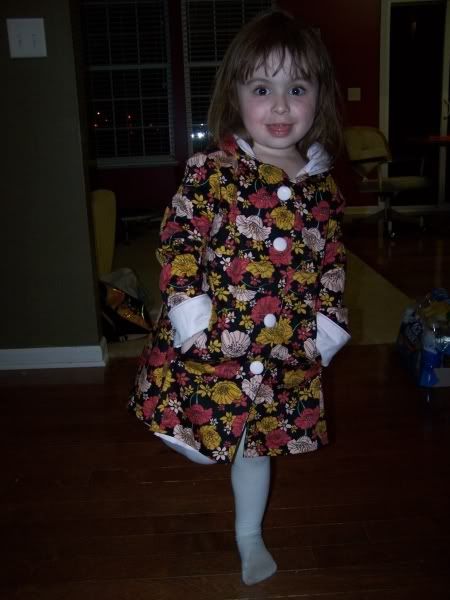 And the hood (my fav pic of the bunch)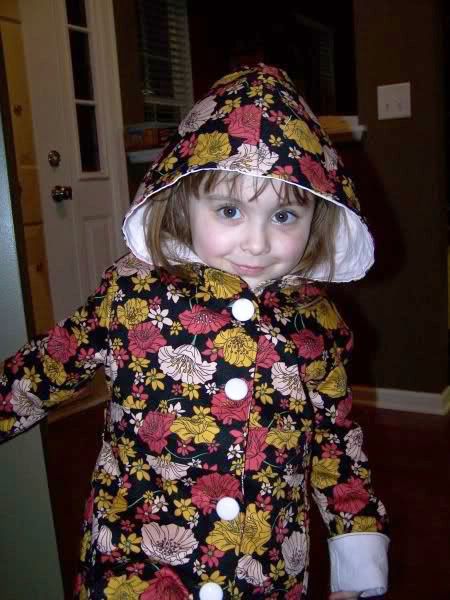 Some things I love. Of course, the pockets. My daughter loves pockets. I dig the faux belt, though I am wondering if I should have made it pink instead of the floral fabric. I adore the fold-up sleeves. I like the contrast and the room to grow they give. It seems pretty roomy right now, so hopefully she can wear it in the fall too.
The only thing I didn't like was the pattern was written with 3/8 inch seam allowances. My machine doesn't really have a 3/8″ marking. 1/2″ or 5/8 would have been better for me.
Also, and this one is my fault, I should have used different colored upper and bobbin threads to match both the shell and lining. Maybe next time.