CRAFTS
Fill a Purse Swap – Sent
Here is what I sent to my partner, MelMakesPretty, in the Fill a Purse Swap on Craftster.
I didn't get as good of pictures as I would have liked, but I was pretty rushed. I don't think I managed my time as well as I could have.
First the purse.


I used Butterick 4409 view D. The bottom corner patches are a vinyl/pleather. I wanted the handles to be the same, but my machine would not sew through 6 layers of vinyl. I ended up using a heavier black cotton. The inside is a satiny black. I added a hidden zipper pocket that wasn't in the pattern. You can never have too many pockets! I chose the pink because my partner's favorite color is pink, she loves flowers and anything girly. It reminded me of vintage flowers. I wish I had gotten a pic of the handles and where they connect. I think it's cute.
And the extras…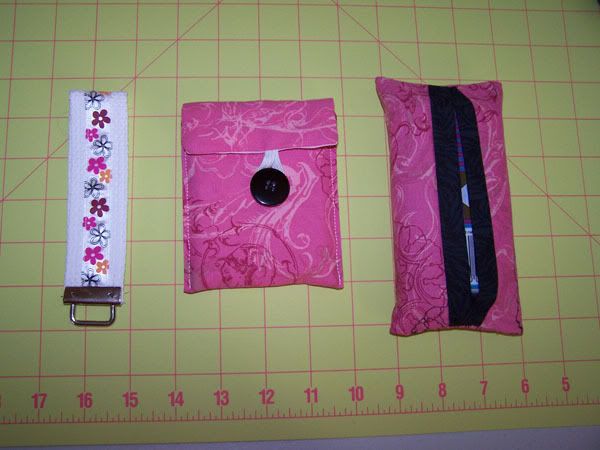 Key fob with floral ribbon, camera cozy, and tissue cozy.
Inside of camera cozy. I used a pre-quilted fabric for some cushion.

I also made a matching coffee cozy (or corset, or shoe ha ha)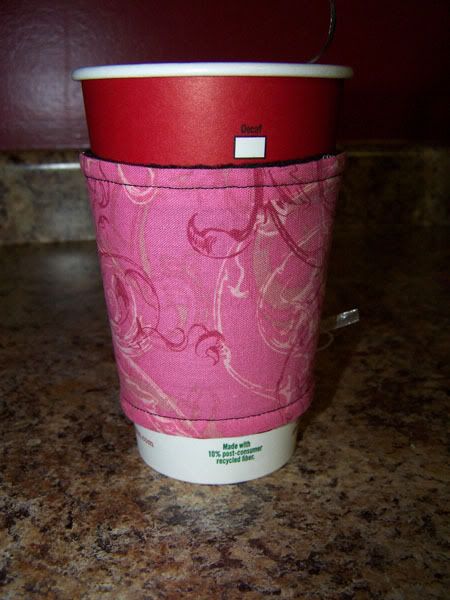 It's lined with black felt to help keep your fingers from burning.
And finally, all accessories together.


Not previously pictured: Cosmetic case and reversible notebook cover. I wish I had gotten a better picture of the notebook cover. Everything except the key fob and tissue cozy was a first for me (and even the tissue cozy was a new pattern I found).
She says she loves everything, so i am a happy crafter!