CRAFTS
Father's Day, Eyeball T-shirts & Windows Vista Gadgets
First of all I want to wish all the dads out there a wonderful, happy Father's Day! I have some fond memories of when I was younger. Making "Chicken McRicks," having "must-gos" for dinner, going on my first roller coaster, getting my first cat, going to the beach and Disney Land, and one of my favorites: him playing the guitar for me.
As I posted earlier, the shirt i made for hubby for Father's day was given to him about a week earlier because 3yr olds don't know the meaning of "keeping a secret." I did manage to hide the shirt the kids made for him though. They gave it to him this morning and he loves it. My mother-in-law bought a kit and sent it out to me.
all thumbnail pictures may be clicked for larger view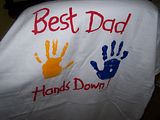 I found the wonders of Windows Vista Gadgets. I am posting this from the Blogger gadget. It's a small-ish window I can drag to my desktop to post blogs instead of having to log into the website. I think it would be great if I didn't post pictures in every blog, but it seems to be a little more work to post pictures through the gadget than through the website – especially when needing to re-size them. Plus, my firefox spell check doesn't work, ha ha! I'm betting I will need to go back and edit this post so the pictures are okay.
And finally, the crafty bit! I saw this clip on Martha Stewart about making Eyeball T-shirts. Martha had found them on Creative Kismet's blog, specifically here. They are much faster to make than I thought.
Front of son's shirt: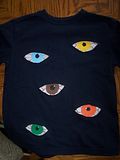 And the back: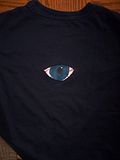 My daughter wearing her shirt (couldn't get son out of PJs, ha ha!)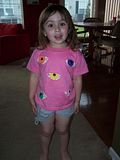 And the Back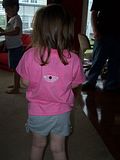 And a close-up of the eyeball: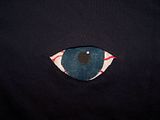 I think I am going to see if my nephew would like an eyeball shirt. Then I have something fun to bring him when I visit next month.
Well, I think that's all for today. I hope this post turns out okay – we'll see if blogger gadget for Vista is worth it (I don't think the Facebook one is).
Edit: Blogger Gadget failed to post my blog, had to copy/paste everything and log into blogger the old fashioned way. Will play with it more and see if it was operator error.