My partner (deadbathducky) received her package so I can post pics! For the One Tiny Thing Swap you give your partner a list of 5 themes which they choose from to make you … one tiny thing. Must be 4″ or smaller. One of my partner's themes was a Survival Kit (First Aid Kit).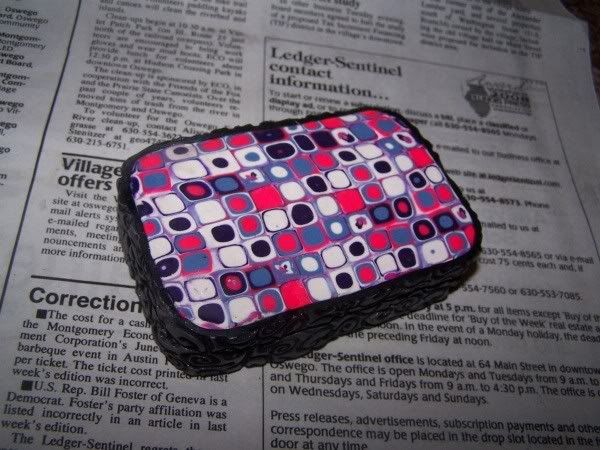 This is the top. I tried a new caning technique and love how it turned out! I want to cover a tin (or two) for myself now! I actually do have plans to cover 3 more tins – 2 for myself and 1 for another swap. I want to cover my little sewing kit that I keep in a tin and make a candle in a tin. I'm not entirely sure what I am going to do for the other swap yet. I'm still brewing ideas. BUT! Back to this particular swap…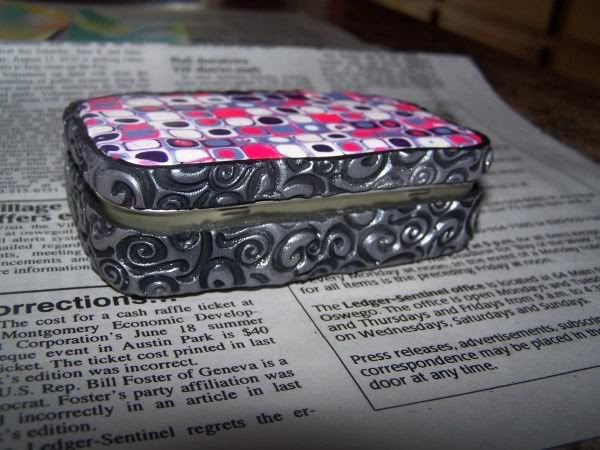 Here is the side. It's black clay textured with a texture sheet and rubbed with silver mica powder. I love how this turned out, too. the bottom has the same texture and was also rubbed with the powder.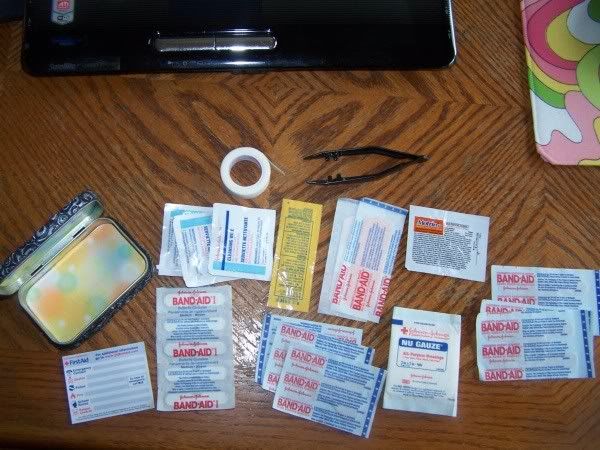 And the contents. Band-aids, antibiotic wipes and cream, pain killers, tweezers, etc. The little roll of tape didn't make it in. The bottom and top of the inside were covered in origami paper and there was a little emergency magnet stuck to the top where you can store important numbers to call in case of emergency.
Well, that's it. Now I am just waiting to see what nifty tiny thing my partner made me. I'm so excited! In the mean time I need to get working on some other crafty projects.