CRAFTS
Beaded Pendant & Mason Jar Pincusion
No, these projects are not related, but they are both small so I tossed them in the same post instead of doing two separate posts. I was going to make more of the pendants (and probably still will. I just don't have a time frame yet) but for now this is all I have. I actually made this for a contest on deviantART. I should find out how I did by tomorrow (I hope). That's when the contest ends, anyway. Who knows how long judging will take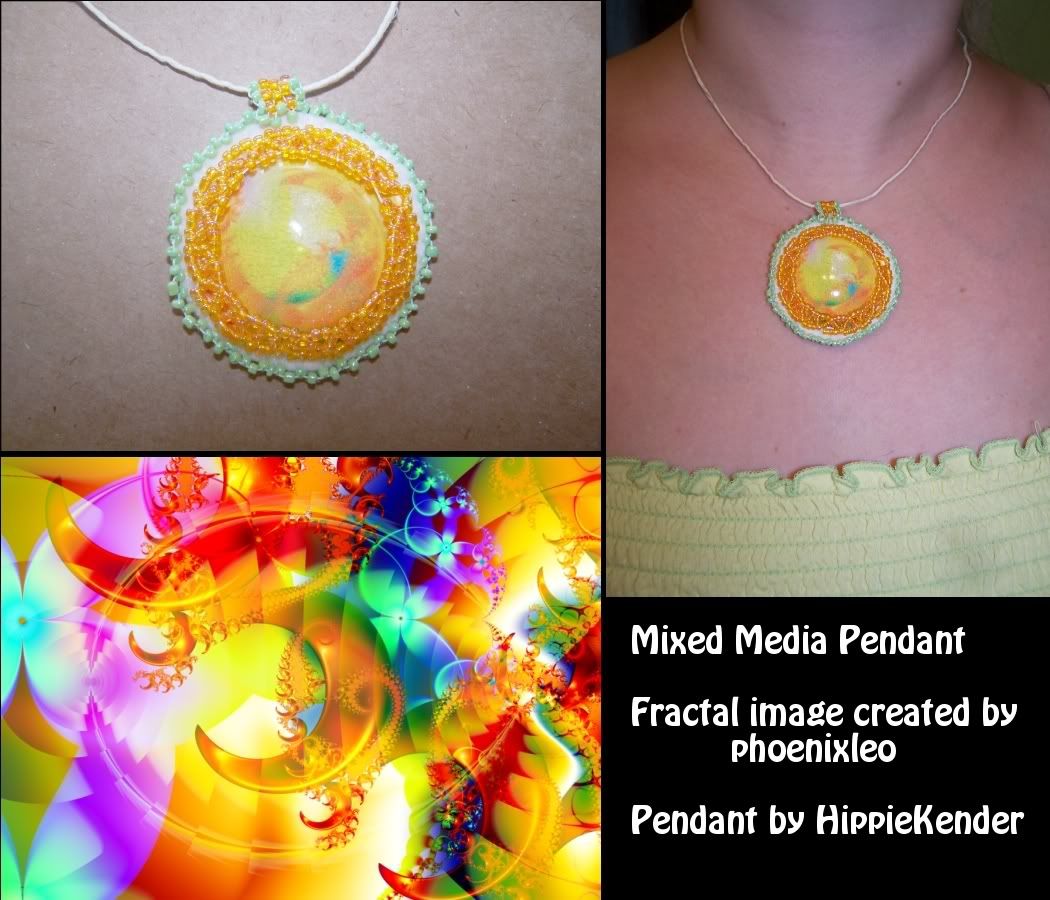 .
Here is my entry. It's pretty big. You can click the thumbnail to see the full size.
I teamed up with phoenixleo. He created the fractal. I printed it out, transferred it to a thin piece of polymer clay and beaded around it. The beading holds it to the felt – no glue needed! I'd like to make more of these so I can practice the peyote stitch. That's what gave me the most trouble, though I hadn't beaded like this in a long time so it took a little time to get the hang of it again.
This is part of our joint entry – my solo entry being the bottlecap jewelry.
I also made a pincushion out of a mason jar (canning jar). It was more difficult than I had anticipated only because adding bulk to the lid makes it hard (or impossible) to shut. I had to fiddle with it quite a bit to get it to fit. The inside of the lid is not as pretty as it could be, but the buttons in the jar make up for it, right? Plus, the lid shuts now, and that's important, ha ha!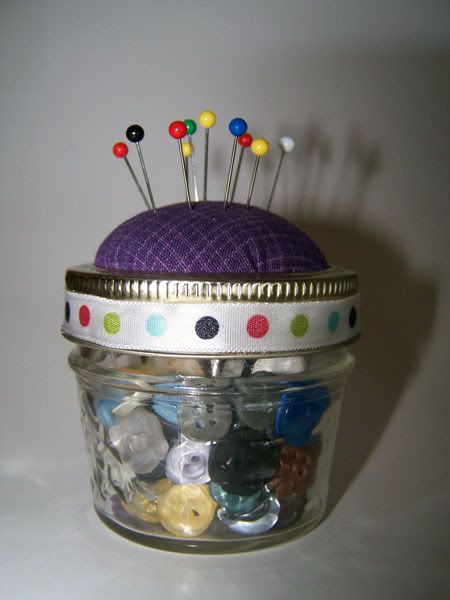 I had tried to find these jars at the resale shop, hoping to get a deal on 6 or more of them. Unfortunately, none of the jars I found had lids. I finally found some at Hobby Lobby for $1.25 each. i wonder if they are cheaper to buy from the grocery store in sets of 4-6 or how ever many come in a box. I've been thinking about things that would be cute to sell at a craft faire. I think these would be wonderful. Could even make them into mini sewing kits, or a starter sewing kit, or something.
I should really be working on my altoid tin for a swap, but I am easily distracted by small side projects. The tin is done, I just need to work on the fillers. I also have 2 more tins half decorated, waiting to be turned into things like candles, sewing kits, first aid kits, etc. I'll get to those eventually, too.
Whoops, almost forgot to add the links.
Inspiration for beaded pendant
Pincushion tutorial
What have you been crafting lately?