CRAFTS
Wine Charms and Portal Earrings
Today my son came home with a cootie catcher/fortune teller a friend had made for him. This lead to a few more fortune tellers being made. He got to write out his own fortunes which was fun. I love seeing his imagination at work! When he read my fortune, I got: You will find something you recently lost. I think it might be my crafting mojo! This month I have crafted more than I have for the last 6 months combined.
-Quilted Ribbon Ornaments (future post because I have 1 more to make)
-Polymer Clay and Resin coasters (also a future post, I have 1 more set to make)
-Wine charms (below)
-Portal inspired earrings (below)
-Misc Stuff not worth picturing, such as pillow gift boxes from old Christmas cards.
I was looking for some small, quick gifts to make and came upon the idea of making some wine charms. I made 2 sets. One is from pre-made earrings and the other is made from memory wire.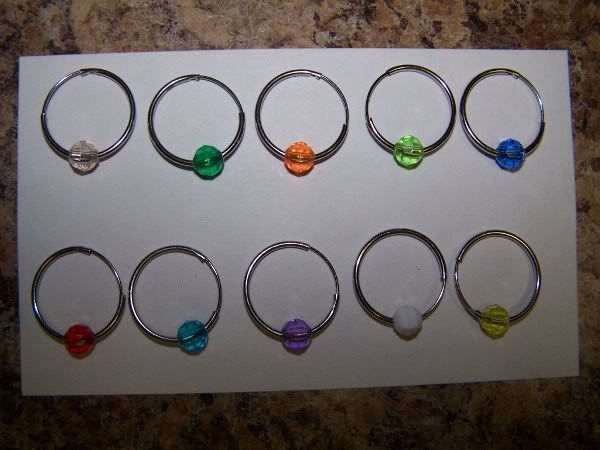 Then I was shown a link to a pair of earrings that a friend really wanted. I was inspired to try my hand at making something similar. Next time I would like to use mirrors for the back part of the earring (like the inspiration), but otherwise I really like them. In case you are not a gamer geek, here is a link to Portal. http://en.wikipedia.org/wiki/Portal_%28video_game%29
We're going to do thumbnails because I got picture happy!

– Weighted Companion Cube, pre-bake

– Earrings, pre-bake

– Finished Earrings

– Blue side

– Orange Side
And one last one to show depth:

Okay I am done flooding you with pictures now. When I get the last ornament and set of coasters done I will post again.
Merry Christmas 🙂