Today i decided to make some heart shaped crayons. I separated the crayons into their color groups.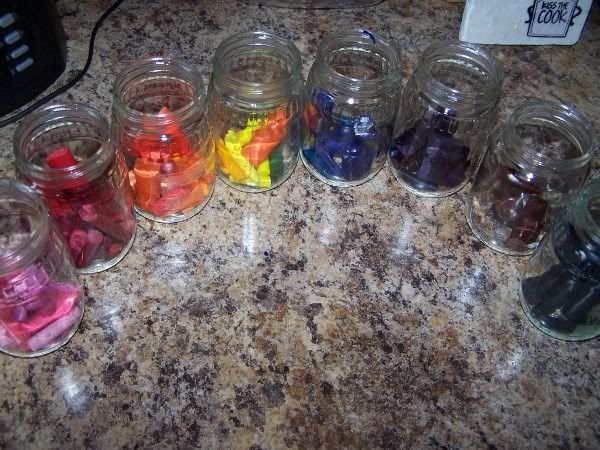 I didn't notice until after I had melted the wax that my daughter had mixed a green and orange crayon into the yellow jar.
After pouring the melted wax into the molds. I found the pink mold at the dollar store and the red one at Target for 2/$2.50. The pink one has little nibs in the middle of the hearts while the red one is nice and smooth on the inside.

Here they are, un-molded. I was impatient for them to dry, so I put them in the freezer for a few minutes.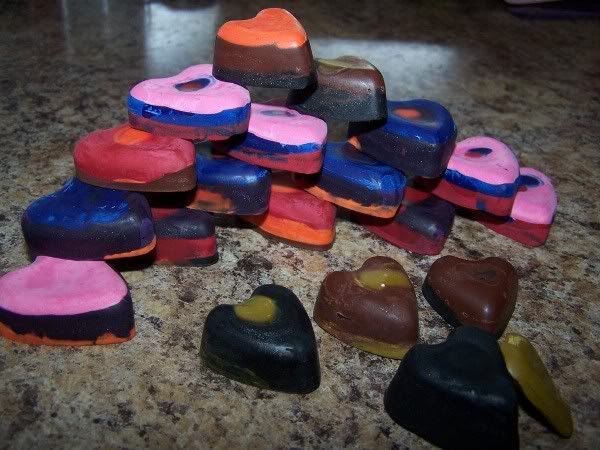 I didn't realize until I had taken the crayons out of the mold that the pink mold's hearts are slight smaller but thicker than the red mold's.
I'm debating if I should give these to daughter's preschool friends tomorrow at her Valentine's day party.
On a side note … I have tried melting down crayons to make fun new crayons before. I use the cupcake tin method where you line the cupcake tin with foil and melt the crayons right in there in the oven. Those turned out fairly well, but they were a little large for toddler size hands. It made it difficult to color with so they never got used. A mini cupcake tin may have worked better.
Making them in these (ice cube trays) molds seems to work out best. They are smaller and easier for small hands to grab. There are multiple surfaces to give you different results when coloring.
… Well, the kids are jumping around me now. I can't seem to keep my train of thought. Better go spend some time with them =)
edit: Here's some links that might be useful. Forgot to add them earlier.
Make your own crayons – discovery.com
Crock-pot method
Crayons and Crayon Roll from Cathie Filian of Creative Juice
Another oven method on Craftster.org