Yes, that's right. From start to finish, I made a book. I was absolutely inspired by this post on Craftster.
So i searched out tutorials on how to make a book and got started…
First, I made registers and sewed them together.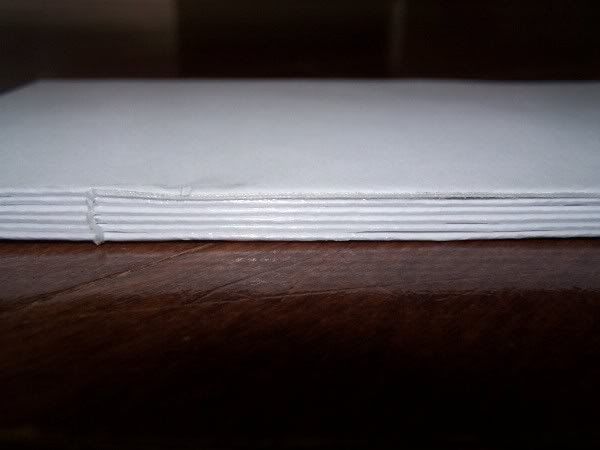 Then, cut cardboard for the cover – I didn't have chipboard, but i had a cardboard box.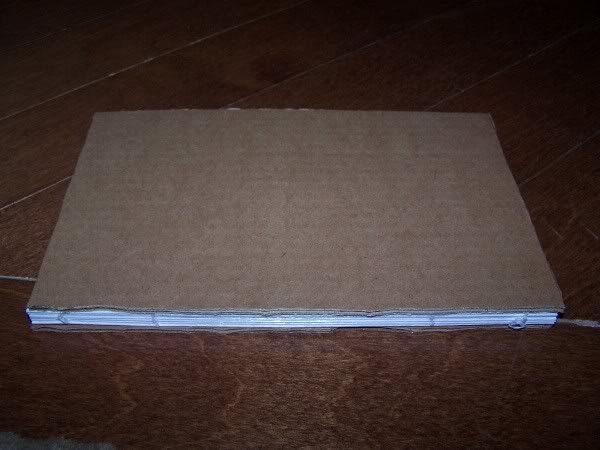 I tried to pretty up the cover with some green tissue paper. I wanted to give it some texture so I crinkled it up. Now I'm not sure I like the textured look.

And … here is my finished book.

I am not 100% happy with the finished product. I can't tell if that is because I am never really happy with anything I make, or if it really sucks that much. I'll probably try it again with some small changes. I would make more registers so the book is thicker. I would also make the cover a little larger than the registers (I think you're supposed to, but I didn't remember until I had already cut them out). I would also make the cover prettier. Less texture, maybe find actual chipboard or thinner cardboard. The size isn't too bad. Since I used regular printer paper for the registers, the finished book measures around 5.5″x8.5″
The two tutorials I used:
Basic Binding of Books
Daydreaming on Paper
And a few others I have bookmarked:
Bookmaking Workshop
Journals by Curiously Crafty
Journalling – a set on Flicker
All in all it wasn't as hard as I thought it would be, but I think I need practice to make it as neat and pretty as i would like it to be.