My daughter went to a birthday party for a preschool friend (turning 4) and her sister (turning 3). I had to come up with not just one, but 2 gifts! One of the girls is into Hannah Montana and I don't know anything about her, the TV show, or the music. So I decided to make the gifts.
I combined a couple tutorials, some inspiration and came up with reversible crayon aprons. One side stores the crayons and the other is just a regular apron with pockets (always a must for things I make my daughter).
Here they are, laid out flat…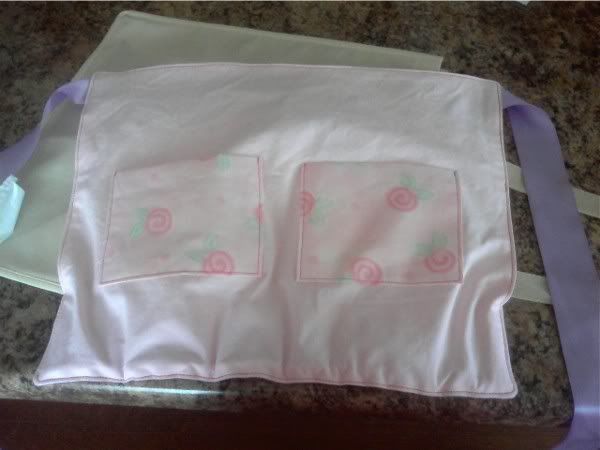 …Apron Side
…Crayon Side
And how I wrapped it up to give as a gift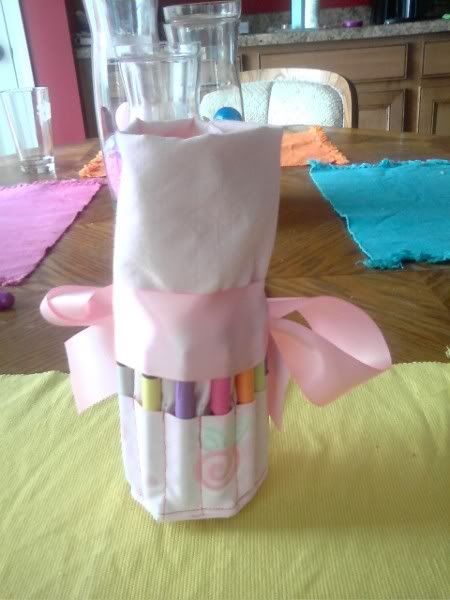 Hopefully the girls like them. My work wouldn't let me have the day off, and the party ran late, so we had to leave before cake & presents. I have no idea how well they were received. I'd bet they went over fairly well since my daughter kept thinking I was making them for her. Maybe I should make her one. She might like it better than the Small Crayon Tote I made a while back. She never even touches that one.
Here's a couple tutorials for you to look at.
Art Apron from Dish Towel
Crayon Roll
Crayon Apron
Crayon Apron
Or doing a Google search will probably bring up tons of stuff.